What's the perfect guilt-free dinner that's full of easy one-pot appeal? Soup, of course. This roundup of spoon-ready recipes will get that new year, new you diet started off on the right food.
We bring you first healthy choice soup:
CARRABBA'S SAUSAGE & LENTIL SOUP
Just because you're on a diet doesn't mean you have to give up that hearty comfort you crave. A symphony of fresh herbs and Italian sausage takes this basic lentil soup recipe to the next level.
I've gone to Carrabas many times just for this soup. A lady from my supper club happened to bring this in for our soup theme and it tasted exactly like Carrabas! I've substituted Italian turkey many times and you would never notice the difference. You might also want to sprinkle some fresh basil and Parmesan cheese on top. Its good with a crusty piece of bread!
INGREDIENTS:
1lb Italian sausage (You can also use Italian turkey sausage)

1large onion, chopped

1stalk celery, chopped

2large carrots, chopped

1small zucchini, chopped

6cups chicken broth

2(14 1/2 ounce) cans diced tomatoes, undrained

2 -3 garlic cloves

1teaspoon salt

2cups dry lentils

black pepper

red pepper flakes

basil

oregano

parsley

thyme
DIRECTIONS:
Brown sausage; drain off fat.
In a large pot combine all ingredients bring to boil.
Reduce heat,cover.
Simmer for about 1 hour or until lentils are tender. Add water if necessary, for desired consistency. I like to puree about 1 cup of the soup and add back to pot to give it a thicker consistency.
Sprinkle with Parmesan cheese and serve.
Our second choice is:
BUTTERNUT SQUASH & CAULIFLOWER SOUP
This colourful soup works its gluten-free magic with a mere four ingredients (not including garnish). Feeling extra adventurous? Give the cauliflower base a facelift by adding a teaspoon of curry powder.
If you like curry, you can add a teaspoon of curry powder before you purée the soup.
INGREDIENTS:
1 tablespoon olive oil

1 small onion, chopped

2 cups butternut squash, diced

3 cups cauliflower florets

800ml vegetable stock or 800 ml water, and vegetable soup base

1⁄2 teaspoon salt

1 tablespoon parsley (to garnish) (optional)
DIRECTIONS
Heat olive oil in a soup pot and sauté onion until it is translucent.
Add butternut squash, cauliflower, and vegetable stock (or water and vegetable soup base) and cook until vegetables are soft for about 15 minutes.
Add salt and purée the soup using a hand blender or blender.
Ladle into soup bowls and sprinkle parsley flakes (if using).
And the third healthy choice soup is:
GARDEN VEGETABLE SOUP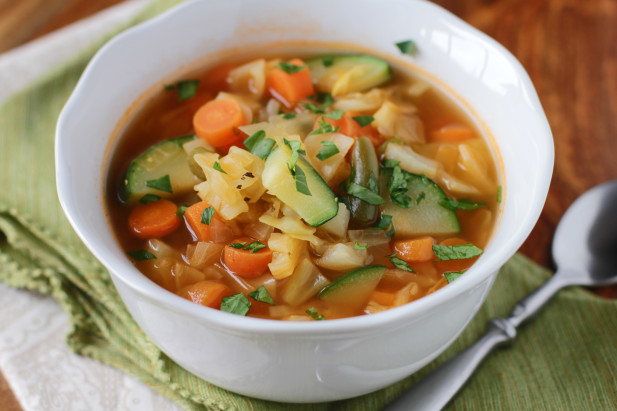 Unless you're planning on eating a big bowl of air for dinner, you'd be hard pressed to find a meal that has less than 50 calories per serving. Enter the veggie medley that dreams are made of. Not only does this easy soup take 30-minutes to make, but it gives guilt-free a whole new meaning by packing in a whopping 42 calories per serving

INGREDIENTS
2⁄3 cup sliced carrot
1⁄2 cup diced onion

2 cloves garlic, minced

3 cups

fat free

broth (beef, chicken or vegetable)

1 1⁄2 cups diced green cabbage
1⁄2 cup green beans

1 tablespoon tomato paste

1⁄2 teaspoon dried basil
1⁄4 teaspoon dried oregano
1⁄4 teaspoon salt
1⁄2 cup diced zucchini
DIRECTIONS
Spray a large saucepan with non-stick cooking spray.
Saute the carrot, onion and garlic over low heat until softened, about 5 minutes.
Add broth, cabbage, green beans, tomato paste and simmer, covered about 15 minutes or until beans are tender.
Stir in zucchini and heat 3-4 minutes.
Serve hot.